Event Calendar
Big German Career Day - Mit Deutsch Karriere machen!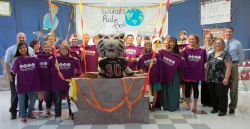 Want to turn your classroom into a career fair?
If the answer is 'yes,' then you need to get involved in our series of Big German Career Days - Mit Deutsch Karriere machen! Spanning throughout October and November, we'll be visiting middle and high schools across Atlanta and the South East to talk to students about how important learning German is in their future careers.
We'll talk about the benefits of learning German and seek to answer the following questions:
Which & how many German companies are located in Atlanta and the Southeastern United States?
What educational background is necessary to work for a German or international company?
What are the advantages of studying German?
Studying only German is not sufficient for a career, but combinations with which other courses are particularly useful or sought after?
We'll bring representatives from German-American companies who will respond to these question and provide information about specific training and career opportunities within the business world in our region – and, most importantly, describe their ideal candidate. Students will also receive information about university programs and scholarships for American students who want to study in Germany.
Interested in a visit? Contact our Outreach Assistant, Will Thomas at outreach@german-institute.org with your name, school, class times and potential dates (these cannot be guaranteed) and we will be happy to schedule a date!