Event Calendar
A Word on Art with Eric Mack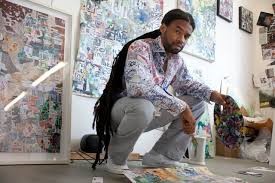 Join us for the latest 'A Word on Art' event with a visit to Atlanta-based and Munich-trained artist, Eric Mack's studio, on Thursday, October 12, 2017, from 3:00 to 5:00 pm.
Eric, who has shown his works all over the U.S. and also in Europe, will show us his studio and his latest creations, and talk to us about his time in Munich.
Light refreshments will be served.
Parking: Free, private, off-street parking is available, right next to the Arts Center building. The location is easy to find and easy to enter and exit.
Admission: Complimentary