Event Calendar
Celebration of European Languages Day 2018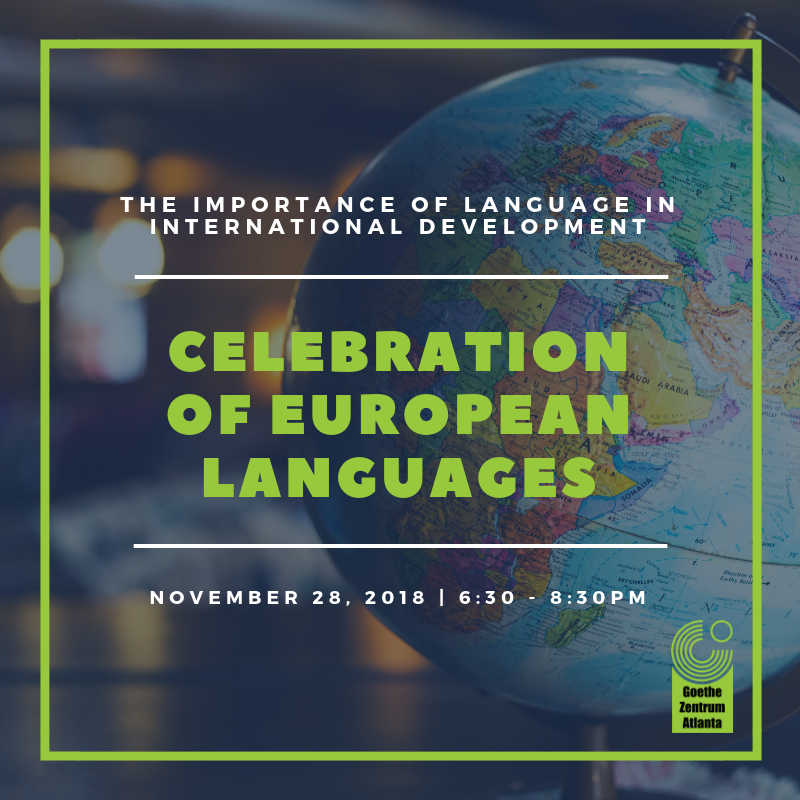 Celebration of European Languages Day 2018
"The Importance of Language in International Development"
Join the Goethe-Zentrum Atlanta in our Celebration of European Languages Day 2018 with the focus "The Importance of Language in International Development" on November 28 from 6:30 pm – 8:30 pm.
We will have panelists from various humanitarian fields as well as a keynote speech addressing how languages are utilized in international development.
Students are also encouraged to participate in our video competition. We ask that you produce a 3- to 4-minute video in which you introduce yourself and give a brief biography of a humanitarian/philanthropist you think has helped shape our world- all in the foreign language you're learning. Foreign languages accepted are German, French and Spanish. The deadline for video submissions is Sunday, November 25, 2018, at 11:59 pm, and winners will be announced at the event.
Please upload your video submission to YouTube and email the link, along with your full name, the school which you attend, your level in foreign language class, and telephone number, to: outreach@german-institute.org. Further rules and instructions can be found in the "Video Competition Rules" file below.
Admission to the event is free, but please register in advance.