Event Calendar
A Note on Opera: "The Greatest Opera Composer You May Never Have Heard Of"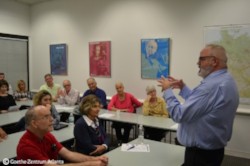 As part of our annual commemoration of the Élysée Treaty, January's "Note" will again have a Franco-German topic. This time it will be Christoph Willibald von Gluck (1714-1787), a "German" composer whose career flourished in Paris and who changed the course of Western opera.
Gluck had the cosmopolitan career that was the norm for most 18th-century composers, with studies in Prague, work in Italy, an appointment to the Habsburg court (where he was also music teacher to the future Queen Marie Antoinette), and then on to Paris.
Towards the end of his Vienna years, Gluck began composing what have been called "reform operas," namely operas that focused on the drama rather than vocal display . It was in Paris that he brought his reforms to fruition, in the process igniting a brutal media war between his proponents and critics, so vicious that it erupted into fist-fights inside the Paris Opéra! As Marie Antoinette's popularity began to plummet, Gluck's own past association with Austria further inflamed the controversy over his "reforms."
We will look at 3 examples: "Orfeo ed Euridice" [Orpheus and Eurydice] (1767), "Alceste" [Alcestis] (1776), and his greatest work, "Iphigénie en Tauride" [Iphigenia on Tauris] (1779).
In conclusion, we'll look at Gluck's lasting effect on Western opera.
Come join us to learn more about this "greatest composer you may never have heard of.".
To be taught in English by David Kerr, no prior musical knowledge required.