Event Calendar
A Note on Opera: Beethoven's "Fidelio"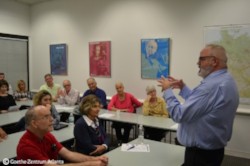 Join us for November's 'A Note on Opera' lecture when we'll take a look at Beethoven's only opera "Fidelio" in commemoration of the 190th anniversary of his passing.
Composing for the stage caused Beethoven no end of difficulty, making "Fidelio" his most valued "child." Composed during Beethoven's "Middle Period," its score is in the same spirit as both his Symphony No. 3 (the "Eroica") and Symphony No. 5.
"Fidelio" has inspired generations living under authoritarian regimes. This legacy as the voice of resistance is the basis for most any production. Honoring the opera's setting in Seville, currently predominating are productions set in Franco's Spain.
"Fidelio" also solidified a trajectory for specifically "German opera": the redemptive power of conjugal love.
To be taught in English by David Kerr, no pre-existing musical knowledge required
Admission: $20.00 members, $25.00 non-members