Event Calendar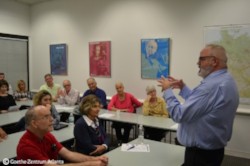 Hands down, Richard Wagner is the most controversial Western composer; absolutely no one in Western music continues to generate so much discussion. Each year more books about Wagner are published than any other figure in Western art. Wagner simply cannot be ignored; his music and his philosophy about Art are too important and their influence too far reaching. For example, modern cinema is based directly on what Wagner put into practice with his "music dramas."
For the first time, "A Note on Opera" will focus on one particular composer – this titan and "bad boy" whom so many vilify, idolize, or some combination thereof. A two-hour lecture on Wagner cannot hope to be exhaustive, but it will try to place him in the context of 19th-century Germany and the development of "German" opera as its own genre.
Despite all Wagner's personal flaws, British commentator and critic Stephen Fry poses a good point: "I still believe, as firmly as I believe anything, that his work is important and on the side of the angels. It is fundamentally good."
To be taught in English by David Kerr.
No pre-existing musical knowledge required.